The Greater Lizzieboro Baptist Church had its beginning in the home of the late Brother Elder Larey and Sister Mary Larey in the year 1870 in a community near Macon known as Lareysville. The Lareys first organized a prayer meeting in their home and invited neighbors to worship with them once a week. It was not long before the room proved to be too small to accommodate the weekly service. The Lareys also organized a Sunday School for biblical instruction of the children of the community. The Blue-Black Speller and Turner's Catechism were the instructional literature.
Sister Lizzie Harris, the Larey's daughter, was the first Sunday School teacher. This mission grew rapidly and it was not long before the congregation needed a minister to preach to them. Rev. W.H. Pack, at the time pastor of Steward Chapel AME Church in Macon, sent Brother Sipio Robinson, a local preacher of his church, to pastor them.
Sister Mary Larey was an African Methodist and her husband, Mr. Elder Larey, was a Missionary Baptist. The two congregations continued to grow so rapidly that Brother Larey's denomination met on one Sunday and Sister Larey's denomination met the next. The time came when both denominations decided it was time to split this fellowship and began two separate churches. Subsequently, the Baptist group became known as the Lizzieboro Baptist Church and the Methodist group became known as Saint Paul AME Church. Thus, it can be clearly seen that from this small beginning in Mr. and Mrs. Larey's home, two strong and progressive churches that have grown, one an African Methodist and the other a Missionary Baptist. Over the next ninety years the Lizzieboro Bapstist Church would be lead by seven pastors. All of which pastored until their death but one.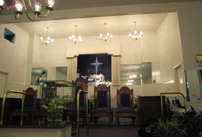 In 1962 the Lord sent a great leader, the Rev. Moses (M.D.) Dumas. Who moved the church from its location on Davis Street to its current location at 1180 Fort Hill Street in Macon just two years after he began pastoring the congregation. In 1977 the mortgage was burned and the name of the church was changed to the Greater Lizzieboro Missionary Baptist Church. Many improvements and accomplishments were made during Pastor M.D. Dumas' pastorage.
In July 2000 the Lord sent another leader to the Greater Lizzieboro Baptist Church. The Rev. Derek M. Dumas, the grandson of Rev. M.D. Dumas, became the first assistant pastor our church has ever had. He assisted Rev. M.D. Dumas in a very dutiful and honorable fashion. In November 2006 Rev. M.D. Dumas was called home to be with the Lord. In December 2006 Rev. Derek M. Dumas was unanimously chosen to serve as the eighth pastor after serving as assistant pastor for more than five years. God has truly had His hand upon him.